School News
GIIS Ahmedabad celebrated Global Schools Foundation's 20th Anniversary through the launch of GIIS IDEATE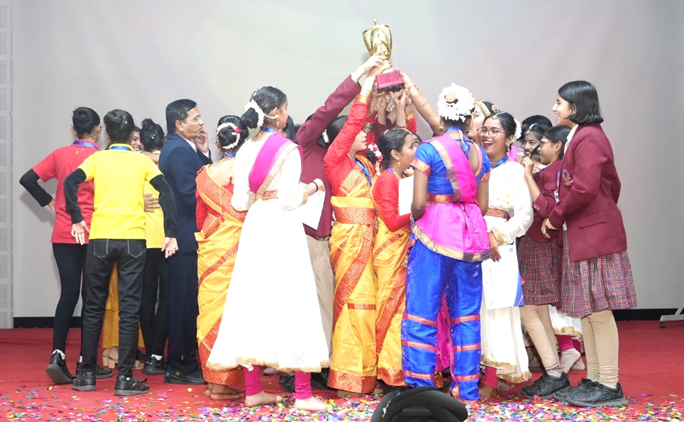 Ahmedabad (Gujarat) [India]: Global Indian International School commenced IDEATE 2022 – a daylong convention which gives students, teachers, and staff a platform to unleash their creative and innovative spirit.
IDEATE – which stands for Innovation, Design, Expressions, Art & Creation, Technology and Engineering – saw the participation of around 500 students from kindergarten to class 12 from more than 25 schools. Centred around the theme, 'Be Innovative, Think Creative', GIIS IDEATE 2022 taps into the creative and innovative spirit of young minds through activities like making doodle art, participating in fusion folk music, contests like history mystery etc.
GIIS IDEATE competition comprises 17 events of which 10 were pre-judged, while 7 were conducted in two rounds (pre-judged and physical). The chief guest for the opening ceremony was the Gujarati Film Director, Mr. Chanakya Patel, while the chief guest for valedictory was an internationally acclaimed, mind power and motivational speaker, Dr. Jitendra Adhia. Dr. Hetal Wadiwala graced the occasion as the Guest for Honor during Valedictory ceremony. The renowned personalities of respective specialties were invited to judge the IDEATE competitions.
Students from KG to Class XII participated in activities such as scienceporium wherein the students had to demonstrate and explain the concept of science experiments on Environmental Science or Earth Science. The students of Upper Primary and Middle School who participated in the Wrecky Techie competition where they had to prepare a science project reusing the wreck yard or sustainable materials.
The participants of Design for Tomorrow for classes 9 to 12 had to design their dresses and accessories inspired by famous artists like Gustav, Klimt, Frida Kahlo to name a few. As per the rules, they were allowed to use objects such as painted paper, printed paper, thread, beads, tissue paper, newspaper, or any other fabric. For Futurpreneur, Educator's Perspective and Scienceporium, the questionnaire round was conducted.
"IDEATE has been launched with the aim to enhance and inculcate the virtues of team spirit, cooperation, and brotherhood among students. GIIS Ahmedabad was stoked to launch GIIS IDEATE 2022, for the Alpha Generation to showcase their innovation and creativity on the big stage", says Caesar D'Silva, Principal, GIIS Ahmedabad.
More than 25+ schools participated in the event. The event coordinator of Kokilaben Dhirubhai Ambani Reliance Foundation School, Jamnagar, Ms. Sheela Iyer, praised the concept of GIIS IDEATE 2022, "It is a unique concept that GIIS Ahmedabad has introduced and we would like to participate for the next year. It helped the students develop the challenges of 21st Holistic Skills."
"I participated in a Futurpreneur competition which is for Senior students. I would like to participate in such competitions further also, which enhances my skills and develops the thinking process." said Anjali Chandnani of Grade 11- Commerce.
The event was part of the 20th Anniversary celebrations of the Global Schools Foundation (GSF), of which GIIS is a part. GSF, which has a worldwide presence through 35 campuses across 10 countries, has an educational framework that provides experiential learning opportunities that enhance student creativity and development holistically. The GSF ecosystem sharpens their skill sets through extra-curricular activities as well.