School News
GIIS Ahmedabad Hosted University Connect Program for Grade 10 to 12 Students with Delegates from 27 US Universities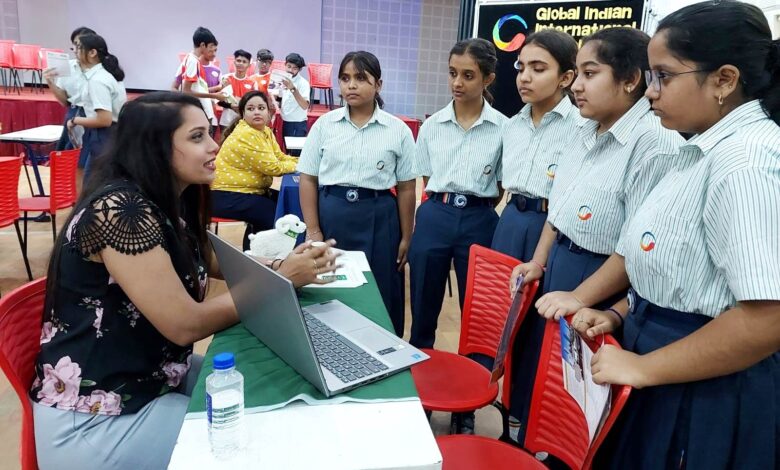 Ahmedabad (Gujarat) [India]: GIIS Ahmedabad, a leading international school, in association with the Indo-American Education Society (IAES) recently hosted an impactful University Connect Program for its Grade 10 to 12 students in collaboration with delegates from 27 prestigious universities from United States in the Multi-Purpose Hall (MPH) of the school campus. The event aimed to provide students with valuable insights and guidance about higher education opportunities abroad.
The University Connect Program witnessed the participation of over 150 enthusiastic students who were eager to explore their academic prospects in the United States. The students were introduced to the objective of the University Connect Fair and the opportunities they will get to interact with the delegates of reputed US universities and their offerings. Ms. Suman Trivedi, the university counselor, highlighted the benefits of studying in the US along with the eligibility criteria and necessary credentials.
During the program, representatives from the participating universities shared comprehensive information about their institutions, academic programs, admission requirements, and scholarship opportunities. The one on one interaction allowed students to engage directly with the delegates, gaining first- hand knowledge and clarifying their queries regarding the popular courses, campus life, and career prospects.
Mr. Caesar D'silva, Principal of Global Indian International School, Ahmedabad, expressed his delight at the overwhelming response from both students and universities. He emphasized the importance of comprehensive career guidance for students' academic growth and future success. Mr. D'silva stated, "The University Connect Program with esteemed US universities has opened up a world of possibilities for our students. It has equipped them with valuable insights to make informed decisions about their higher education."
The participating universities included renowned institutions such as Avila University, George Mason University, Green River College, San Diego State University, University of San Francisco, and the University of California. The representatives were highly impressed with the student's enthusiasm and expressed their pleasure in guiding them toward pursuing their dreams in higher education.
One of the attending students, Samiksha Dey from Grade 12-Humanities, expressed her gratitude towards GIIS Ahmedabad for organizing such an informative event. She said, "I interacted with 6-7 universities. Surprisingly, I found out that some universities do not consider SAT or IELTS scores and it will help us get admission more easily." While Prushti Dalsania said, "For the fact that some of the universities are my favorite ones. I also got to know about the various other courses relevant to me. So I am looking forward to admission to one of the best universities in the US."
GIIS Ahmedabad remains committed to the holistic development of its students by providing opportunities to explore diverse career paths and make well-informed decisions about their future. The success of the University Connect Program further reinforces GIIS Ahmedabad's dedication to nurturing well-rounded individuals who are prepared to excel in the global arena.