School News
Global Indian International School Ahmedabad celebrates Annual Sports Day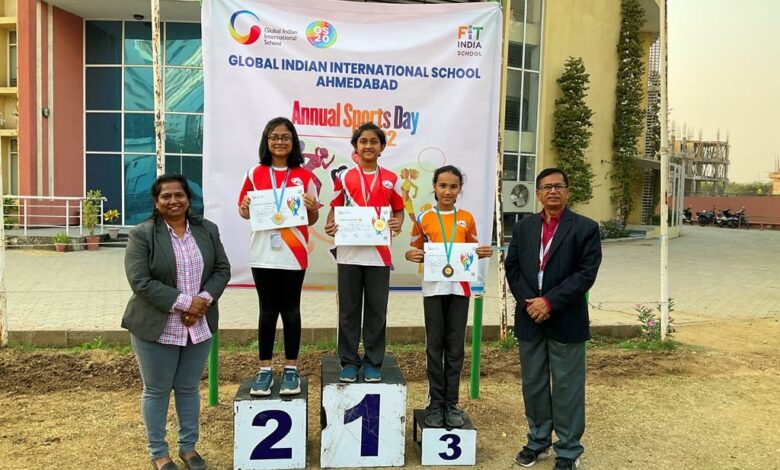 Ahmedabad (Gujarat) [India]: Global Indian International School Ahmedabad has recently celebrated its Annual Sports day with great cheer and camaraderie from GMP to Grade 12 students. It was a great opportunity to display their talent and sportsmanship.
GIIS Ahmedabad believes in providing students an environment that will help them thrive academically, as well as in extracurricular activities which contribute greatly in one's overall development. Over 3000 students that participated in varied sport activities and the school's esteemed sports team judged the event. The opening ceremony commenced with students performing Yoga, March-past, torch relay, flag relay, and an oath ceremony which was followed by athletic events such as the medicine ball throw, standing broad jump, relay race, cross fit, and obstacle races. The event also had activities like inter house competitions which consisted of sports such as handball, basketball, football, cricket, chess, and skating.
"It is important that children are given opportunities to not only excel academically, but in extracurricular activities as well. The annual sports day is a reflection of the importance Global Indian International School gives to sports which is considered as an area of excellence in education. It comes under the school's 9 GEMS holistic framework which encourages sports and other skills as part of well-rounded student development. It was an absolute delight to witness the healthy competition, and energy on the ground that day", says Caeser D'Silva, Principal, GIIS Ahmedabad
The main aim of hosting an annual sports day was to provide students a platform that will develop essential skills among them such as teamwork, sportsmanship, and building rapport with their peers and educators. Right from the students to teachers, everyone expressed their joy and merriment by participating and supporting each other in the true GIIS Ahmedabad's spirit!
Global Indian International School (GIIS) is part of a global network of premier international schools under GSF which has won over 450 awards for providing quality education. GSF operates in 10 countries with 35 campuses in Singapore, Malaysia, Japan, Thailand, UAE, and India. Founded in 2002 in Singapore, GSF schools offer a range of International and Indian curricula for kindergarten to Grade 12 students. These include the International Baccalaureate Diploma Programme (IBDP), Cambridge IGCSE, IB Primary Years Programme, IB Middle Years Programme, Central Board of Secondary Education (CBSE) American Common Core and the Global Montessori Plus Programme. GSF has recently completed 20 years in education. It has been recognised worldwide for high standards of governance and established academic criteria.
 For more information, please visit: https://ahmedabad.globalindianschool.org/