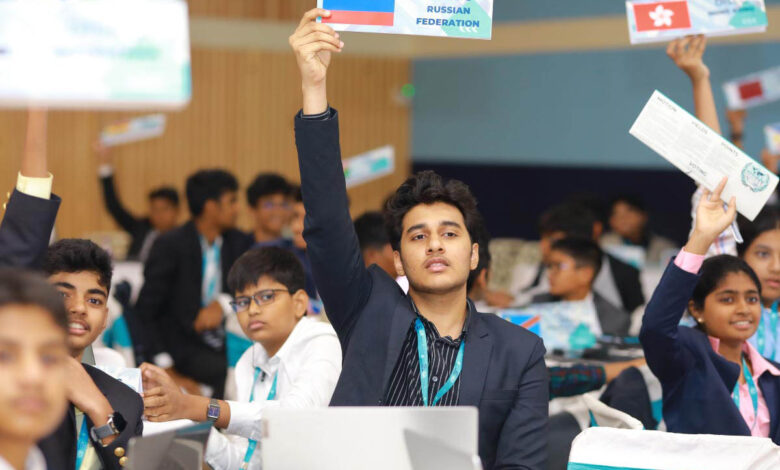 Hyderabad: The Model United Nations (MUN) conference held at Oakridge International School, Bachupally. It was a remarkable event that left a lasting impact on youth leaders. The conference provided a meaningful platform for young minds to engage in dialogue and address pressing global issues. 400+ delegates representing 40 schools participated in the conference, showcasing the reach and influence of Oakridge Bachupally MUN.
This year's conference was exceptional because of the largest community with a delegation of 110 students of diverse backgrounds.
The event was inaugurated by the esteemed Chief Guest, Krishank Manne, Chairman of Telangana State Mineral Development Corporation Limited. He set the tone for an enriching and empowering experience in his address. Krishank praised the conference for empowering the youth with ideas and values, equipping them to become tomorrow's leaders who can effectively tackle global challenges. He remarked that Oakridge Bachupally MUN is nurturing future leaders who will make a significant impact on the world stage.
Baljeet Oberoi, Principal of Oakridge International School, Bachupally emphasised the significance of dialogue and highlighted the crucial role of young leaders in shaping the future with their ideas and vision. She remarked that through platforms like MUN, critical thinking and diplomatic skills are fostered in students, enabling them to become proactive global citizens.
Rama Krishna Pinjala, the Director General of Oakridge Bachupally MUN 2023, expressed heartfelt gratitude to all the participants and emphasized the journey of transforming the event from an idea into a remarkable reality. He also congratulated Director General Akshith for his outstanding efforts in organizing the conference. Rama Krishna Pinjala stated, "Oakridge Bachupally MUN is a testament to the potential of our youth to drive positive change. Their passion and dedication are truly commendable."
The hard work and dedication of the Secretariat, Executive Board Members, and the Organizing Committee made the seamless execution of the event possible. Oakridge International School Bachupally takes immense pride in providing a nurturing environment that empowers young minds and encourages them to be global citizens who create a positive impact.
About Oakridge International School, Bachupally
Oakridge International School, Bachupally, is a part of Nord Anglia Education, the world's leading premium school organisation. Oakridge students are connected to a community of 81 international schools spread across 32 countries, with access to rich resources, support, and global opportunities that enhance the schools' already excellent teaching and learning experience. Oakridge Bachupally School was recently ranked in the Top 3 International Schools in Hyderabad and No.1 in Northwest Zone in Times School Rankings 2021. The school also ranked among the Top 3 International Day Schools in Hyderabad and Telangana by Education World India School Rankings 21-22.