College News
Roots Collegium's 31st Graduation Day held
A mistake made by a doctor or engineer may affect few, but, when a responsible public representative takes a wrong decision, it affects lives of many: Gangula Kamalakar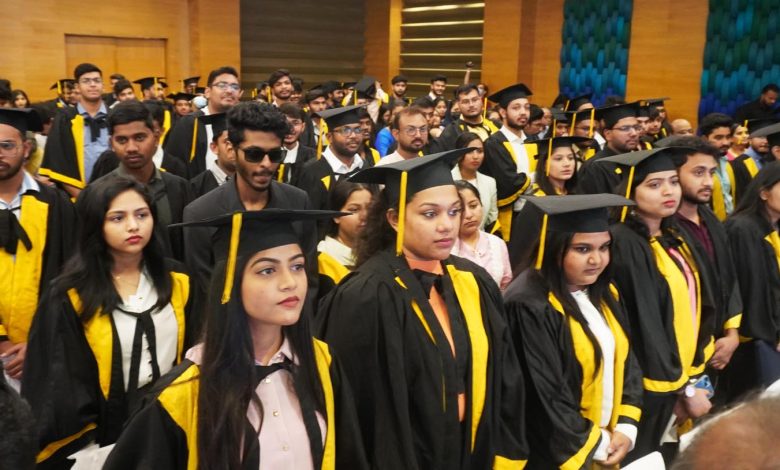 Hyderabad, April 11, 2022: Roots Collegium's 31st Graduation Day was held on Saturday at Hotel Marigold, Begumpet.
300 students graduated from the batches of 2020 and 2021. The graduation ceremony couldn't be held in the last two years due to Covid.
Gangula Kamalakar, Minister for Food and Civil Supplies and Consumers Affairs was the Chief Guest.
Addressing the 600 plus audience comprising students, faculty, and parents, he said a doctor can make a mistake, an Engineer can make a mistake. But if a public representative or a politician makes a wrong decision and makes a mistake it affects thousands. It will be fatal.  Take for instance the current state of affairs in Sri Lanka.
I am pleased to note that Roots Collegium, which began with just 19 students in 1991, has so far impacted 15000 students' lives in the last 31 years. Its current strength of 1400 is a testimony to its success, Kamlakar said.
Prof R Limbadri, Chairman of Telangana State Council of Higher Education (TSCHE) said Roots Collegium is unique out of 1080 colleges in Telangana. It is a pioneer in liberal arts and business management.
He advised students to have a multi-disciplinary approach. You must keep abreast with changes, the way educational institutions too are changing by adding departments such as Innovation and entrepreneurship which were never heard before, he told students.
Sudhakar Rao, Director ICFAI Group and Varun Agarwal, COO of My Money Karma.
Giving his welcome address, BP Padala, Chairman of Roots Collegium said good education liberates one from ignorance, arrogance, and helplessness. Education is travelling from darkness to light.
He advised outgoing students to have clarity of thought, honesty in execution and never give up.
The college had a Freshers Party later in the afternoon and students had no bounds as they got this opportunity after a gap of two years.