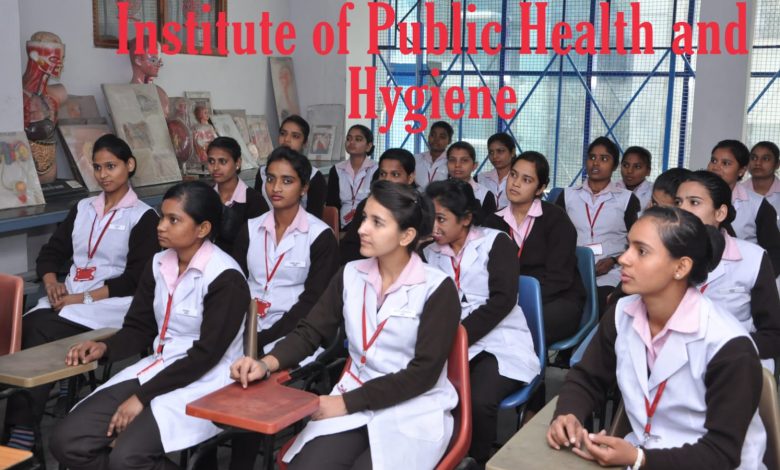 Paramedical courses are professional medical courses that help in building a career in the medical world. It deals with how to make a medical emergency under control. This unique training is given in the form of Paramedical Courses. There is a wide range of courses in Paramedical which start from short term to degree level. Many paramedical courses have only a 4-week duration, and the maximum course duration of paramedical courses is 3 to 4 years. We have prepared an updated list that has covered the Best Paramedical Colleges/institutes for you.
Here is a list of the Top 5 Best Paramedical Institutes in Delhi
1. INSTITUTE OF PUBLIC HEALTH & HYGIENE
IPHH is one of India's oldest paramedical institutes, established in July 1976 by (Late) Dr.Shyam Sunder Joshi, whose visionary ideas led him to envision and create an Institution that was inclusive and opened its doors to the world. It is a Co-educational Institute cantering to students from all walks of life. IPHH is committed to serving the future society more than any other institute.
A significant number of international students have chosen IPH&H as their place of study, and the number has been growing each year consistently. Institute Of Public Health And Hygiene offers support throughout their research here, prepares them for the industry through our programs, and provides placement opportunities. Institute Of Public Health And Hygiene offers various Certificate, Diplomas, Degree, and Doctor courses. Under the school of nursing, they offered many courses.
Here are some most popular courses offered by IPHH, Bachelor in Medical Lab Technology, Bachelor in Radio Imaging Technology, Bachelor in Operation Theater Technology, Cath Lab Technology, X-Ray & ECG Technology, Operation Theatre Technology, Dialysis Technician, Rehabilitation Counselling, Old Age Care Attendant, Emergency Medical Technician(EMT).
Address: Block A, RZ-A-44, Rd Number 4, Mahipalpur Extension, New Delhi, Delhi 110037
Contact Number: +91- 011 – 26786846, +91 – 9811817972
Official Website: https://www.iphhparamedic.in/
2. All India Institute Of Medical Science
The All India Institutes of Medical Sciences (AIIMS) is a group of autonomous government public medical universities of higher education under the jurisdiction of the Ministry of Health and Family Welfare, Government of India. An Act of Parliament has declared these institutes as Institutes of National Importance. AIIMS New Delhi, the forerunner institute, was established in 1956.
AIIMS BSc paramedical exam on June 25, 2022, by AIIMS Delhi. It is a computer-based test organised at various test centres across India for admission to BSc paramedical programmes offered by AIIMS campuses. Candidates can expect the exam result to be announced in July 2022. AIIMS offers many paramedical courses like Bachelor of Optometry. BSc (Hons) Medical Technology in Radiography (MTR), BSc Course in Dental Operating Room Assistant (DORA) BSc Course in Dental Hygiene.BSc Course in Operation Theatre Technology (OTT) BSc (Hons) Nursing. BSc Nursing (Post Basic).
3. Maulana Azad Medical College
Maulana Azad Medical College (MAMC) is a medical college in New Delhi, India, affiliated with the University of Delhi and run by the Delhi government. It is named after Indian freedom fighters and the first education minister of independent India, Maulana Abul Kalam Azad. It was established in 1959 at Bahadur Shah Zafar Marg near Delhi Gate. Four hospitals – Lok Nayak Jay Prakash Hospital, GB Pant Institute of Postgraduate Medical Education & Research, Maulana Azad Institute of Dental Sciences and Guru Nanak Eye Centre – are situated on the college campus and attached to the college.
The medical college offers MBBS, BDS[Bachelor of Dental Surgery], MD and MS degrees, and postgraduate residency courses for super-speciality / sub-speciality fellowship degrees of MCh and DM. Institutes offering degrees in nursing and pharmacy are also attached to the college. More than 30 courses are being offered in MAMC in the Medical Stream
4. Jamia Hamdard University
Jamia Hamdard is an institute of higher education deemed to be a university located in New Delhi, India. Established in 1989, it was formally inaugurated by the then Prime Minister of India, Shri Rajiv Gandhi, on August 1, 1989. It is a government-funded university.
Jamia Hamdard's paramedical courses are BSc. Optometry (BOPT) BSc. Medical Imaging Technology (BMIT) BSc. Operation Theater Techniques (BOTT) Medical Record & Health Information Management (BMR&HIM) BSc. In Cardiology Lab Techniques (BCLT) BSc. Dialysis Techniques (BDT).
5. Delhi Paramedical & Management Institute
DPMI Vocational Institute, popularly known as DPMI, works under the aegis of PMTS of India & is registered in Delhi under the SR Act 1860, Section 21. At DPMI, the approach to education is a combination of case studies, fieldwork, and authentic feedback that strongly focuses on laying a strong academic foundation for theory and practical concepts. The programs offer a unique combination of technical assistance, opportunities, vast choices, and rich experience.
With a team of highly qualified and experienced faculty, students gain a comprehensive view of an in-depth understanding of the concepts. DPMI offers courses like Diploma in Medical Lab Technology (DMLT), Certificate in Medical Lab Technology (CMLT), Certificate in Operation Theatre Technology etc.