Competitions
Grand Finale of 1st Edition of HPS (Ramanthapur) YoungPreneurs Contest held
The virtual program consisted of Elevator Pitch and Business Plan competition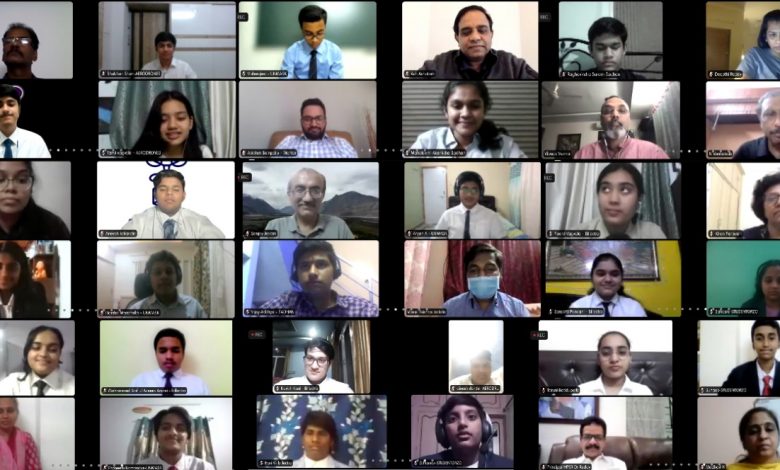 Six student teams competed and Unmask Team emerged winner in Business Plan Competition and also bagged Best Elevator pitch award
Hyderabad, Telangana : The Hyderabad Public School (Ramanthapur) organized on Sunday evening  the Grand Finale of 1st Edition of its YoungPreneurs program in a virtual model. An Elevator Pitch and Business Plan Competitions held. Six student teams competed to win the elevator pitch and business plan competitions.
The winners include: Six student teams competed and Unmask Team emerged winner in Business Plan Competition and also bagged Best Elevator pitch award.  Billectro team emerged Runner Up. Studentorzo bagged the title as the Best Team known for Perseverance and planning; 'Aero Drones Team' bagged Best Team Known for Customer Empathy title; 'Sadan Team' Best Team Known for Persistance title. Wowinsite team bagged the title Best Team Known for Sustainable Thinking & Innovation.
These finalist teams competed include Team Billectro, Studentorzo, Aero Drones, Sadan, Wowinsite and Unmask. Each team was comprised of six members and were mentored by a seasoned mentor.
The grand jury of this competition was K. Chandra Shekar, Angel Investor & Advisor; Deepthi Ravula, CEO of WE-HUB and Sanjay Jesrani, Founder & CEO, Go North Ventures.  They evaluated the presentation and declared winners.
Speaking on the occasion, Deepthi Ravula said kids pitched much better than many startups.  They had ready answers to the questions of the jury.  Jasraj, another jury member said innovative thinking, new models exhibited by the participants are the starting point of entrepreneurship.  K. Chandra Shekar while giving feedback said, they were wonderful at their age. This extra-curricular activity for the students was commendable.
The YoungPreneurs program is an initiative of the HPS(R) Alumni Association. It is organized in partnership with TiE-Hyderabad.
Ash Ashutosh, Founder and CEO of Actifio, a company which was acquired by Google recently was the Chief Guest. Speaking on the occasion he appreciated HPS-R Alumni Association for putting up a good show against all odds. That is the spirit of entrepreneurship he said. And added that the participants were so matured, confident and exhibited lot of critical thiking skills which are most sought after.  Ash Ashutosh is an Alumni of the school of 1979 batch.
Viiveck Verma,  Co Chair of the TYE program and board member of TiE Hyderabad said, "we are very pleased with the TYE model which we were running for over a decade now being adopted to a customised model with HPSR and this is the need of the hour for the future. We were very pleased with the NEP 2020 as that is formalizing entrepreneurship as a subject which this partnership took advantage of.
The vision of The HPS Alumni Association is to nurture entrepreneurs at an early stage and prepare students to take on real-life challenges head-on to solve socially relevant problems. HPS(R) and the alumni association introduced Entrepreneurship as an elective subject for Class 11 and 12 as per CBSE guidelines. The elective will be taught with an "experiential-based" learning approach similar to the well-established programs in US high schools with continuous mentoring from distinguished HPS(R) Alumni named as "HPSR YOUNGPRENUERS" program.
The Grand Finale is the culmination of all the efforts of students, teachers, alumni mentors for over a year.
The HPSR YoungPreneurs -2021 Grand Finale is held virtually in partnership with TiE-Hyderabad (The Indus Entrepreneurs) known for their global TYE Virtual program.
Dr. Narshima Reddy, Principal of Hyderabad Public School, Ramanthapur stated "If we have to build on the vision of our Prime Minister Narendra Modi "Made in India, Made for the world", we have to plant the seeds of entrepreneurship at the high school level". 
Jay Reddy, Co-chair of the Entrepreneurship program, said "As we alumni look at our successes and blessings in life and connect the dots, the HPSR school experiences, values taught and networks we built have played a critical role in our success. This is a way for alumni to give back to have a lasting impact for decades to come".
VenuVinod, President of The HPSR Alumni Association, stated "We are blessed with a generous and close alumni network that is committed to having a huge impact on the communities we serve, HPSR Entrepreneurship program is one such initiative we launched this year."
Founded in 1972 under the aegis of The HPS Society,  HPS Ramanthapur  is a prestigious institution spread over 41 acres carved out of Osmania University campus. Over the last 5 decades with its unique culture and education, this school has produced many illustrious and successful alumni in leadership positions across many fields. K.SatishReddy, Chairman, DrReddys' Labs; Venkatatapathi Raju, Indian Test Cricketer and Selector; Justice Raghunandan Rao, Judge of the High court of AP; Ash Ashutosh, Founder and CEO of Actifio; Ravi Kailas, Chairman, Mytrah Energy; PaveenTailam, Chairman,TIE Global to name a few.