State News
BOLO ENGLISH, an initiative empowering Children from Low Income Communities with Spoken English Skills is launched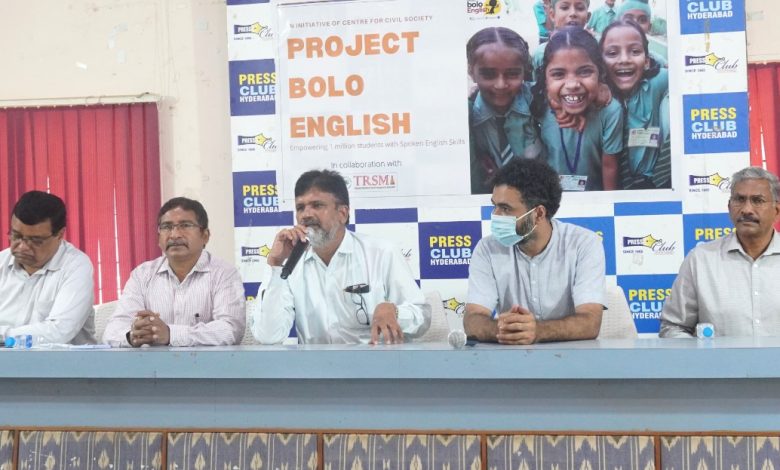 It is an initiative of Centre for Civil Society, National Independent Schools Alliance(NISA) and TRSMA
Hyderabad, Talangana: BOLO ENGLISH, an ambitious initiative of three top notch educational organizations empowering Children from Low Income Communities with Spoken English Skills is launched in Telangana.  It is an initiative of Centre for Civil Society, National Independent Schools Alliance(NISA) and TRSMA.
Disclosing this addressing a press conference in Hyderabad on Wednesday Mr. Y. Shekhar Rao,  Mr. S. Madhusudhan, President and General Secretary of  TRSMA and Mr. Rohan Joshi, Director, Project Bolo English said it is the most sought after initiative being rolled out now. 
Since its soft launch in July 2020, the project has engaged over 1,00,000 students and 1500 teachers from 500 schools in Telangana, Tamil Nadu, Maharashtra, Delhi, Himachal Pradesh, Uttar Pradesh. Project Bolo English, is now introduced to over 30,000 students, 600 teachers from 125budget private schools from all over Telangana in collaboration with TRSMA. Over 350 budget private schools that are eager to join the project and its mission of empowering a million students from low-income families with Spoken English skills. Our aim is to reach over 1,00,000 students and 1,000 schools from Telangana in the academic year 2021-22.
TRSMA is  Telangana Recognised School Managements Association.  It  is a family of 10,000 schools 30 lakh students and 2 lakh teaching and non-teaching staff.
The Centre for Civil Society is an independent, non-profit, research and educational organisation devoted to improving the quality of life for all citizens . 
The National Independent Schools Alliance (NISA) is a platform that brings together budget private schools (BPS) from across the country to give them a unified voice to address their concerns about legislations and bye-laws which apply to them and to facilitate quality improvement in schools. As of today, NISA represents over 36,400 schools, from 20 state associations, which cater to the needs of ~9.35 million children at an average of ~250 children per school.
"Children from rural areas, and vernacular backgrounds have benefitted immensely by Project Bolo English. Rural schools often struggle to find trained English-language teachers, while students have limited exposure and limited opportunities to practice the language. Project Bolo English has solved both the challenges. The results we have seen in the first year are of the project really encouraging. Children from Karimnagar, Khammam, Medchal-Malkajgiri, Rangareddy districts have shown remarkable improvement in their English communication skills"  says Y. Shekhar Rao, President TRSMA.
"Budget Private Schools across the state are working relentlessly to ensure children from low-income families continue receiving high quality education during the pandemic. While the schools are facing many challenges due to the extended lockdown, their commitment to keep students meaningfully engaged remains strong" says, Mr. S. Madhusudan Rao, General Secretary, TRSMA. He adds "Project Bolo English is one of the priority initiatives of TRSMA. We aspire to take to the project to all 8,000 TRSMA member schools benefitting over 20 lakh students. It is important to find innovative ways to keep the students and parents engaged during the pandemic. We are prioritizing Project Bolo English which reconnects schools with students using much-aspired English language skills that are critical to professional success of our students."
Rohan Joshi, Director of Project Bolo English says "As we know, there is a high aspiration for English language proficiency in India, especially among its low and middle-income families. This aspiration is supported by global research that establishes that there is a high wage premium attached to even a basic fluency in English. However, educators from all over India share the challenge that despite several efforts from the teachers, principals, and parents alike, students do not speak fluently in English. Employers, on the other hand often complain that fresh graduates that appear for job interviews lack English communication skills. Project Bolo English addresses this challenge by providing free access to children to world-class mobile applications, training to the teachers, opportunities for students to communicate in English and by educating parents on importance of English language skills"
As an outcome of our continuous engagement with the key stakeholders i.e. schools, teachers, parents and the students, over a thousand students and  teachers have shown significant improvement in their English language skills. The project is supported by renowned philanthropic entities, namely, Michael and Susan Dell Foundation, Procter and Gamble CSR, The Rising Tide Foundation. Remarkably, the project is featured by the United Nations in its film A World We Want that showcases select initiatives supporting women and girl students from low income families during the pandemic.
Mr. Uma Maheshwar Rao, President, TRSMA- Hyderabad and Mr. Shivratri Yadgiri, President, TRSMA, Medchal Malkajgiri, Mr. Birappa, President, TRSMA, Rangareddy District, Saeed Ahmed, General Secretary, TRSMA, Hyderabad and Manchala Ravi, Treasure, TRSMA, Hyderabad were present at the press conference.