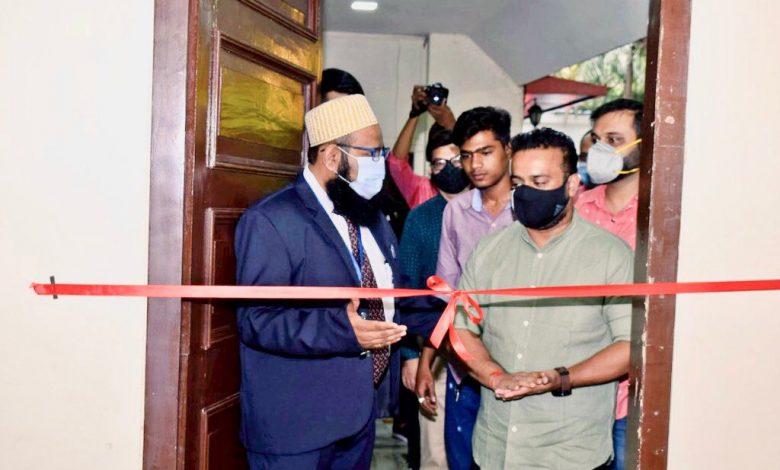 Mumbai, Maharashtra: Continuing its commitment to serving society, students and faculty of Burhani College in Mumbai organised a Blood Donation Camp in association with Saifee Hospital and the Dawoodi Bohra community's philanthropic initiative, Project Rise. The camp aimed to encourage the youth to step forward and donate blood as certain regions in Maharashtra face a shortage of blood for treatment.
Shri Nikhil Yashwant Jadhav, Senate Member of Mumbai University, attended the programme as a Chief Guest and acknowledged the efforts of the College in taking up this noble cause. "Excuses never save lives but donating and contributing does," said Shri Jhadav while addressing students at the campus.
Dr Talib Yusuf, Dean of Burhani College, said, "As an institution driven by values of being caring and compassionate, we feel proud of our students for undertaking this healthcare cause which is the current need of the hour, along with spreading awareness about the importance of donating blood."
"Credit to my fellow faculty members and non-teaching staff for giving shape to this programme as part of our College's Golden Jubilee Celebrations," Yusuf added.
Over 100 donors participated in the cause while strictly following the COVID-19 guidelines.
Mohammed Cutlerywala, Burhani College student and one of the donors, expressed, "It hardly takes few minutes to donate blood, but it could change someone's life, forever. Particularly in the time of COVID-19, donating blood has been more important than ever."
With the vision to provide "Knowledge for All", Burhani College, the Dawoodi Bohra community's premier higher education institute, offers degree programs in Bachelor of Management Science, Bachelor of Mass Media and Communication, Bachelor of Commerce, Bachelor of Arts and Master of Commerce. Besides offering a wide range of Harvard Business School Online courses to shape leaders and entrepreneurs for tomorrow, it also provides curated certificate courses in Sciences of the Home to impart life skills to the modern homemaker.