Career Guidance
Inspirational Career Guidance – Prof. Dr. Pratik Rajan Mungekar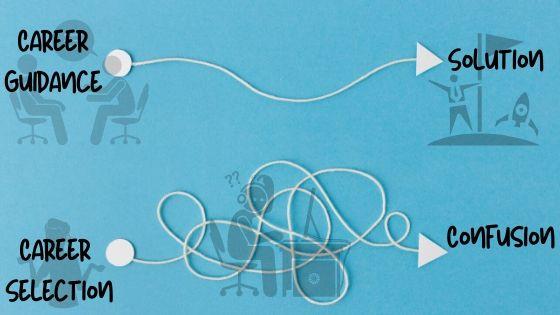 Opportunities don't happen, you create them & open your own doors.
Happy person is the person who always brings his own sunshine, wherever he goes and whatever the weather. From the cradle to the grave, correct career guidance plays a vital role in shaping the path of life. When it comes to career, we know that we are living in a very competitive era where one has to compete in every section of their life to obtain the ultimate goal. In the modern era of globalisation, where we have innumerable career options, a complete and comprehensive career guidance strategy is the only precise option that will provide you with the desirable goal. With multiple opportunities and options available in our careers, people often get in the dilemma of narrowing down the best option. To overcome this problem, all you need is complete career guidance to enlighten you from your academics' very beginning stage.
Academic career guidance is one of the most important guidance that students need to nurture their future. The decisions of early student life have a major impact on their career, which is not just restricted to their academics but have an impact on their social, financial, and personal life. The correct guidance by an expert career guidance counsellor will help the students to understand and choose their career options as per their knowledge, skills, interest, and capability.
Dear students, where are you going to be in five years? What will you be doing from 9 till 6 every day? In what sphere will you work? In other words, what are your career objectives? Some of you must be thinking that the third year of studies is yet too early to ask such questions. Let me assure you that it is high time to decide upon this issue.
In fact, as my 12 year-long experience as professor & career counsellor shows, there are only two alternatives. Either you think about your career beforehand – now! – or you graduate in two years with an empty track record, and cling to the very first job available with the highest salary. "Not bad at all", some of you might think. Still, believe me that you will soon get bored, for money is not the sense of life. When you hate what you do every day for eight hours, when you go to work only to receive your monthly salary – your life is not complete to say the least. I like the quotation by Elizabeth Kubler Ross who said that "people are like stained-glass windows. They sparkle and shine when the sun is out, but when the darkness sets in, their true beauty is revealed only if there is a light from within" . The source of this inner light is love for everything that surrounds you – your family in the first place, but also your work! It should give you delight, ensure your professional and personal growth and provide you with a sense of achievement and importance of what you do. Trust my experience: such people rarely get bored with their work in the course of years and are much happier than disillusioned money-earners.
Selection of any stream is very crucial as the students have to appear for their class 10th board examination with the subjects in that stream. In the case of CBSE and many state boards, this stream bifurcation is done after the 10th standard. Hence we see that there is diversity along with options available for the students at the stage of their secondary education. Now, let's understand how career guidance is important at the early stage of academics. Students preparing for the board exam have a common goal to triumph and succeed in order to obtain the pinnacle in their career. With the correct guidance, the goal can be obtained because such an early stage in academics is considered as the ladder to reach the destination. The guidance not only helps to select the right stream but also helps in understanding its future benefits. The guidance helps the students to get motivated and not to get distracted while studying.
Problems faced by the students while selecting career options
Lack of awareness: Many students want to pursue their careers in a particular field but have no clarity on how to proceed. Career guidance and counselling play a vital role in such cases, with an expert guiding you by analysing your interest, strength, capability and making you able to transition successfully towards a career option.
Numerous options and dilemmas: When it comes to selecting a better career option, it is not just confined and restricted to stream and subject selection. A whole new Pandora box is opened when you start to shortlist your future career option. A lot of questions start to bother your night dreams like which college to select, whether to study in India or go abroad and many others. Even if you select a particular field, there are many branches to make your decision more complicated. Career guidance plays a big role in resolving these issues and making your path crystal clear.
Facts and Myth: Students must stay away from false narratives and propaganda developed to mislead many students. Before taking admission in any educational institution and opting for any subject to study, students are advised to do well research and fact-check all the details.
Impact of surroundings: It must be kept in mind that to achieve the optimum results sky's the limit. Let not your surroundings have an impact on your career; stay away from pessimist people who are always ready to drag down your morale.
Role of career guidance counsellor
A professional career guidance counsellor guides the students to find the best and suitable career option for them. This guidance has proved to be prosperous, thriving, and life-changing for many students. A career guidance counsellor is like a doctor who can easily identify the problems in the students and guide them in the most appropriate manner. 
Let us quickly explore the tasks and functions performed by a career counsellor. 
Advice for career
Technology and computers are some of the most emerging careers in todays scenario. It is the duty of these career counselors to aware students of these changes. Having complete knowledge will prevent students from making decisions in a vacuum of information. Many aspirants do not know about their life plans while some of them fail to trace relevant steps. Thus, career guidance will resolve all these dilemmas. For instance, if you are looking for the corporate sector, team building and problem-solving are valuable skills. 
Evaluate interests and abilities
Would you rather engage in a venture that promotes your liking? Or, a task that drains you completely? A majority of people will certainly go for the first option. Interest is an individuals preference to engage in one or more activities relative to another. Career guidance techniques devise different techniques for its evaluation. The earlier we recognise them, the better results will be. Goal setting by a career counsellor incorporates ones preferences in mind.
Liaison 
Anxiety, and finance shortages are certain to arrive with career decisions. Career guidance is a more comprehensive and advanced solution than you think. The objective of sessions is to assist students on their track and achieve a goal. Unlike informal advice, these specialised counsellors offer an unbiased solution to the clients. Say goodbye to all judgments and downgrading statements. 
Advantages of career guidance
Here comes the part for which your heart had been racing all along from the beginning. Let us dive into the benefits of engaging in career guidance. 
Advice from skilled people
It must be noted that counsellors are professionally trained to guide concerned people. They are furnished with various expertise including, communication skills, problem-solving ability, and self-awareness. Therefore, career guidance is a one-stop solution to all career queries. 
Diverse opportunities
Do you know that there are around 7.6 billion people in the world currently? It means that these individuals are employed in a significant number of professions. Some worth noting fields are administration, information technology, teaching, banking, and others. Sorting one out of these prospects can be a tedious task for an individual. Career guidance comes out as a lifesaver in terms of distinct career opportunities. 
Ways to grow your career
Lets say that you have decided to become a surgeon. Do you know the best college on your fixed budget? Which certifications are a must to try on? Do specific skills determine success in the medical field? It can be a perplexing task to find a perfect solution to such vital aspects. Career guidance shows a complete roadmap to mark the flag of success. 
Learning experience
A stellar career counsellor makes you learn about a range of tips that will put you on a pedestal. Be it excelling in an interview or handling corporate pressure- career guidance has covered everything. You can even attempt mock tests or interactions to up skill. It is a step-by-step process to transform into a perfect job candidate. Be sure to take advantage of career guidance to build your profile. 
Saves time and money
Let us admit that advanced degrees cost a hefty amount which can even rip your pockets. Some individuals enrol for a course which neither forms their interest nor grants any scope. Switching majors is not a feasible option for most middle-income families. And, dropping college is not a smart option as not everyone becomes Bill Gates. Sticking to a fixed pathway through career guidance should be on your priority list. 
Career counselling process
With all modern-day facilities, multiple career options, and a race to reach the pinnacle of the career, one must easily say that career guidance has become a necessity. A professional counsellor may identify your talent by taking a simple career guidance test. This test will help him to analyse your strengths and weaknesses and provide you a road map for your career path. These tests might also include a career guidance aptitude test to understand your ability to perform a certain type of work under given circumstances. The result of the test will help to analyse all the options that are good as per your capability. The career guidance counsellor will also suggest how to improve on your weaker sections and improve those areas.
Conclusion
It is never too late to plan for your career unless you do not take a step forward. A minor decision like stream selection can certainly affect your life outcomes. Ignorance is never bliss in any scenario, rather brings more struggle. We are often clueless about our careers, or interests. It might not look like a big deal but will make you regret it after time passes. You still have the power to turn your barren pathway into a prosperous one. In the end, do not rush with your career choices. Adopt the relevant strategies and keep exploring. You never know what career or subject can fit the best for you. Exposure is the first step to become professionally aware. What are you waiting for, then? Feel free to seek career counselling around you. 
Career guidance will help the students to fulfil their aspirations by setting up realistic goals. As mentioned earlier, career choice will determine the future of the students not only by providing them their dream job but also by providing them a better future with job satisfaction. Career guidance with an expert counsellor will develop a clear road map to fulfil future dreams. A career guidance counsellor is an expert in the field of career opportunities and options that students must have, depending on his interest and capability. A counsellor is well aware of the opportunity and examines them from a broader perspective to find a suitable solution for a particular student. From all the above-mentioned details, it must have been clear how an individual can obtain benefits from career guidance.
For more guidance, feel free to email us on [email protected] or give me a call +91 97697 82051