Career Guidance
Lakshya Digital – Game Art & Animation Studio is looking at hiring skilled 3D Artists, Animators and Trainers from New Delhi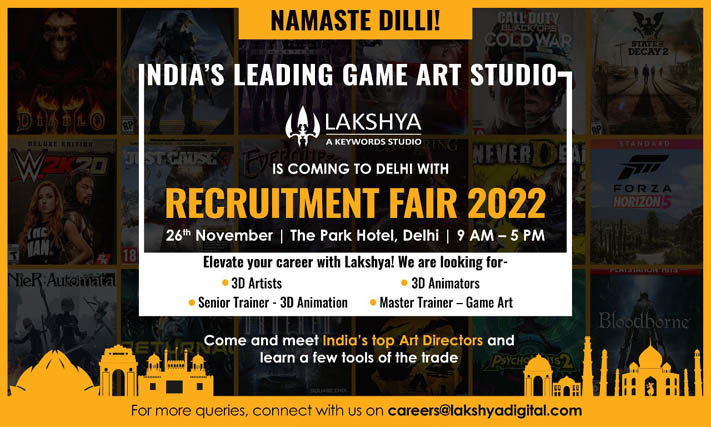 India's Leading Game Art & Animation Studio, Lakshya Digital will be hosting a Recruitment Fair on Saturday, 26 November, 2022 at The Park Hotel, Connaught Place, New Delhi. Lakshya Digital is looking for talented mid-level 3D Artists, Animators and Trainers for their Gurgaon, Pune and Bangalore locations.
Visit the Recruitment fair if you want to boost your career in the Art & Animation field. Come and meet India's top Art Directors, and gain insights and knowledge on the gaming sector.
Online Application Process:  To register yourself for the event, apply on the link appropriate to your profile and we will get back to you with the next steps for your application.
Deadline to submit applications is Thursday, 17 November 2022
3D Artists – https://bit.ly/3UfG2RV
3D Animators – https://bit.ly/3DKWanb
Senior Trainer – 3D Animation – https://bit.ly/3RRUopy
Master Trainer – Game Art – https://bit.ly/3dgamearttrainer
Please feel free to connect with us on [email protected] for any queriesGame Art & Animation Studio